reactor and apparatus heating up to 600°C
High temperature for laboratory, miniplant and pilot plant
The JUVO 500 heating circulators from JUCHHEIM Laborgeräte use a patented principle to enable particularly fast heating and cooling of glass and stainless steel reactors up to 350°C.
The surface of the JUVO 500 is made entirely of stainless steel. This makes it particularly robust and durable.
Many thermostats have already been in continuous use for over 30 years

Another advantage of the JUVO 500 is its uniquely compact design. Thanks to the supplied suspension, the temperature control system can be easily integrated into any plant without taking up additional floor space. Thus, even highly integrated laboratory systems still fit into the fume hood.
For temperatures up to 600°C we offer direct electric heating solutions. Also including control, temperature limiter and thermal insulation.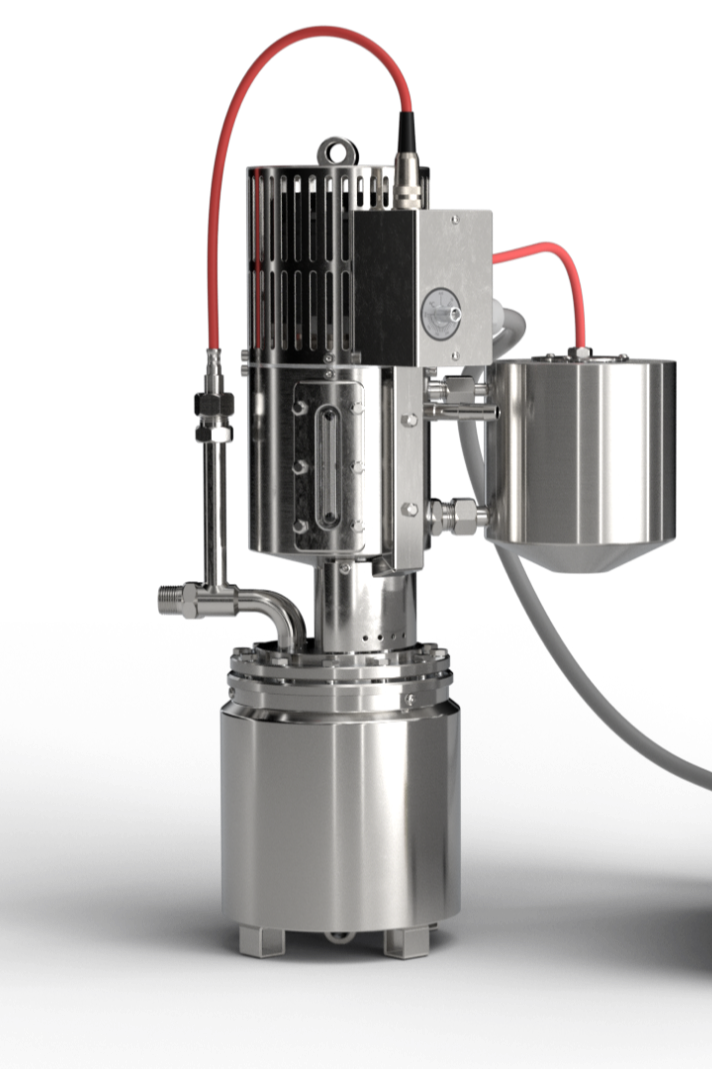 JUVO 500
The most compact heat transfer medium circulator for up to 350°C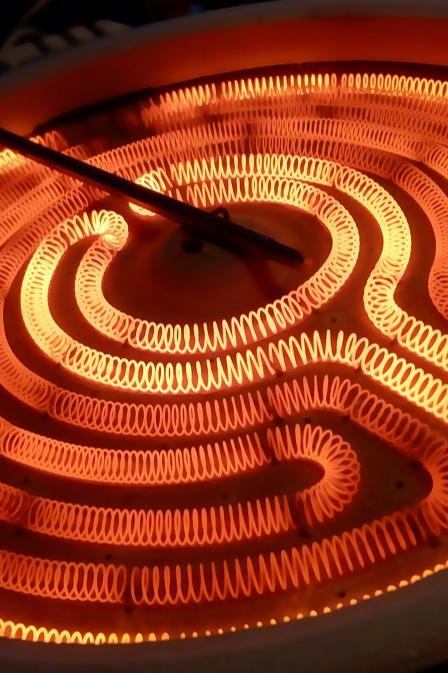 Direct electric heating
Electric pipe and tank heaters up to 600°C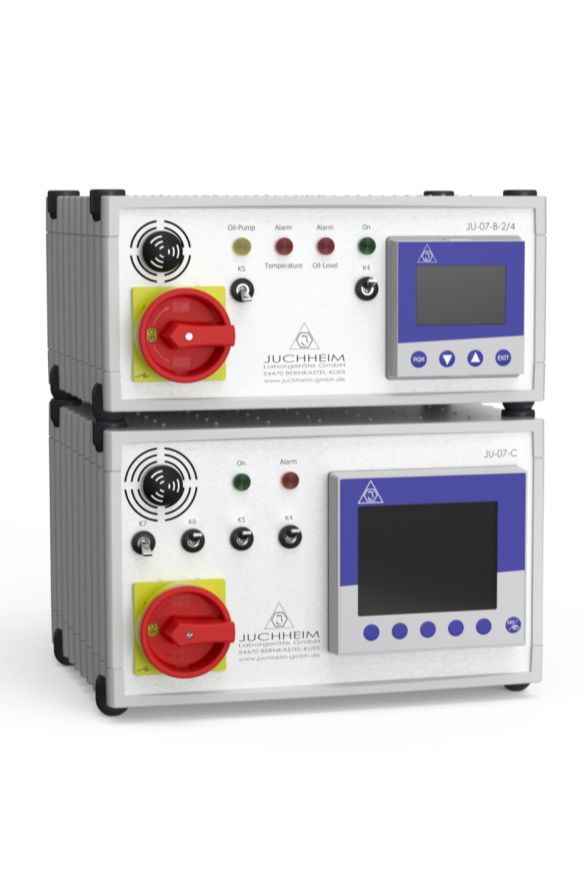 Heating controller
Compact desktop controller for heating and cooling with (cascade) PID controller and numerous functions.
Proven solution for heating up to 350°C
Due to the small filling volume particularly fast heating and cooling.
Double jacket heat up to 350°C
The patented principle enables a particularly small filling volume. This enables particularly fast heating and a compact design: can be hung in any system like a small container.

The "basic controller" - enter the setpoint and off you go!

The basic controller (type B) offers the most essential functions: Setpoint setting and adjustment. This makes it particularly easy to operate and is already completely sufficient for many applications.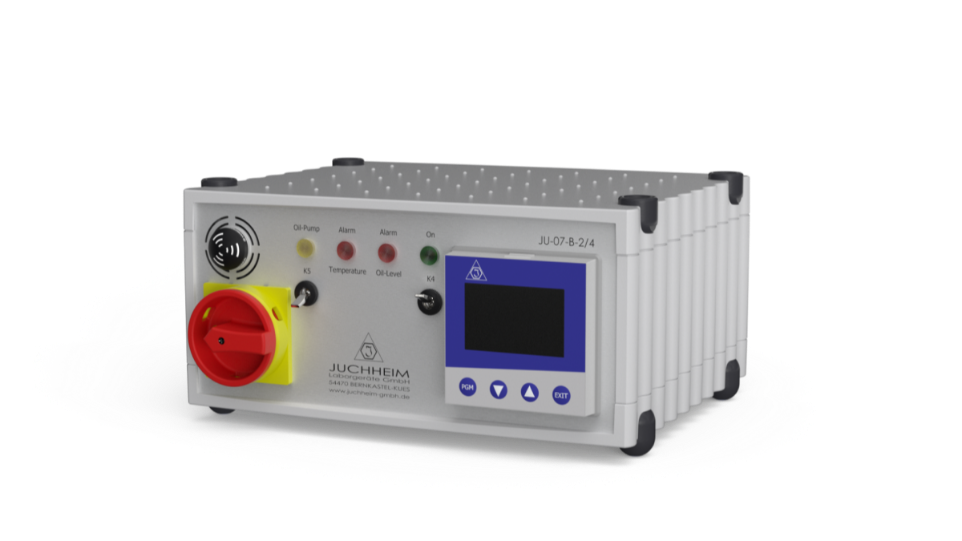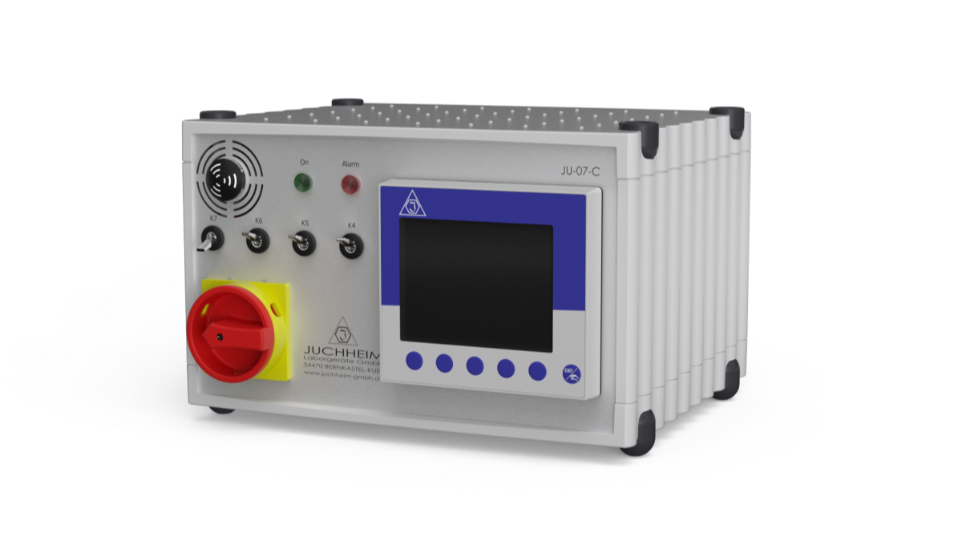 The "comfort controller" - temperature profiles, remote control, auto tuning + more.

The comfort controller (Type-C) additionally offers the possibility to specify temperature profiles and to run them automatically. The measured values can be recorded and displayed or exported with software for Microsoft Windows 10.
The C-controller can also be integrated into a PLC / control system (e.g. LabManager) via RS485 and exchange values. Furthermore, valves can be controlled by the controller box and e.g. a pressure sensor can be connected to the controller via 4...20mA and the current measured value can be displayed on the large color display.

JUCHHEIM circulators offer the unique advantage that they can be integrated directly into a plant due to their compact design. Thanks to the glandless design, they are suitable for continuous operation at temperatures up to 350 °C.
JUCHHEIM thermostats are used for precise heating:

in laboratory and pilot plant for heating double-walled reaction vessels, autoclaves and JUVO stirred tank reactors

for precise and overheating-free heating of small plastic processing machines, such as extruders, presses, injection molding machines,

in high-vacuum thin-film evaporation plants for the isothermal performance of chemical reactions.
Since the volume of the heat transfer fluid is very small, rapid switching between heating and cooling is made possible.
For isothermal performance of exothermic reactions, you can obtain counterflow coolers as accessories, which are controlled manually or via a solenoid valve. If the counterflow cooler is inserted in the feed line to the recipient, it rapidly cools the heat transfer fluid there and can thus quickly dissipate the heat of reaction.
Numerous application possibilities
With the heating power of 4 kW, (stirred) vessels up to 50 liters can be heated. The use for heating up to 350°C is recommended for vessels up to 10 liters. For larger vessels, the use is recommended for correspondingly lower target temperatures.
JUCHHEIM thermostats are used for precise heating in laboratories and pilot plants:
Heating of heat exchangers, receiver vessels, reaction vessels (double jacket), autoclaves and JUVO stirred tank reactors
For vacuum, atmospheric and pressure vessels
For the isothermal performance of chemical reactions.
For heating apparatus for plastics processing in the laboratory.
For containers up to approx. 5 liters (for lower target temperatures also correspondingly larger), e.g., several containers can be heated with only one thermostat by means of the following connection: